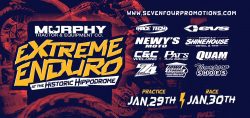 Extreme Enduro Returns January 30, 2021 to the Historic Hippodrome in Waterloo, Iowa! Watch the best racers in the midwest battle bar to bar for Extreme Enduro supremacy or bring your bike and join in on the action!!
This date is tenative depending on current Covid restrictions. Check back often for current details. Social distancing and masks required. More info @ 
www.sevenfourpromotions.com
PRACTICE Night 1/29/21
6 – 9pm
$25 per rider
$5 Spectator
RACE 1/30/21
Day of Event tickets sales only
$15 General Admission / 6-10 yrs $10 / 5yrs and under free
$15 Pit Pass
$35 Amateur / $40 Pro Race Entry
Doors Open / Sign-up @ 12pm
Practice @ 3pm
​​Heat Races @ 6pm
Barns outside of the stadium are available for pit use and allow use of heaters.
​
SMOKELESS 2-STROKE OIL REQUIRED ! ! ! !
EXCESSIVELY SMOKING BIKES WILL NOT BE ALLOWED
​
CLASSES
No quad or mini (65cc and under) classes are offered due to track difficulty
​EXPERT (cash 125cc and up) minimum of $300 to win + 200% to class
450 Intermediate
250 Intermediate (125 – 250cc)
450 Novice
250 Novice (125 – 250cc)
Women (125cc-450cc)
14-24yrs Expert
14-24yrs Amatuer
+25 Expert
+25 Amatuer
+30 Vet Expert
+30 Vet Novice
+50 Expert (New added by popular demand! )
Supermini (11-16yrs 19/16in wheel max)
Newly added pitbike and trials classes!!
Full size bike racers must be 14 or older to compete