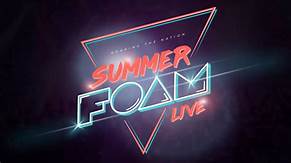 Summerfoam Live brings you the best pop and EDM music in a concert se

tting! 

From concert sound to a cutting edge light show you leave drenched in foam!

  

Summerfoam Live is a unique concert — it's Iowa's Wildest FOAM CONCERT!

!
You'll witness stunning visual effects, earth shaking BASS and talented DJs. This year's Line-Up is…….
MGProDJ
JaFluff
Peter Flynn
What to wear to a FOAM CONCERT?  Wear neon or white clothes you can get wet, swimwear is a great option and go crazy when the beat drops.  Stir your emotions with Summerfoam Live and invite your friends!
This show will SELL OUT – buy your tickets today.
Click Below to purchase your Early Bird Tickets – Prices Go Up 9/16/18
————WARNING————YOU WILL GET WET
YOU ENTER & PARTICIPATE AT YOUR OWN RISK. If you have concerns about your safety, do not participate. We take steps to ensure your safety; however the floors may become slippery. There may be dry areas inside the venue, but do expect to get WET.
The foam solution is hypoallergenic and non-toxic. Summerfoam Live and Devotion Live Entertainment, LLC (promoter) disavows liability for ANY AND ALL injuries which may result in damages to any person(s) or property. USE COMMON SENSE. Have fun at Iowa's Wildest FOAM CONCERT!!! NO REFUNDS
Presented by: Devotion Live Entertainment